With every Job card, you will be able to create linked purchase order(s) to that job. As you enter the items at the quotation stage, you are able to select a supplier for the part, and the supplier's part number. This allows the creation of one order for each supplier for a Jobcard. When ordering a jobcard item that was quoted from a specific supplier, you can either use the supplier that you received the quote from, or select an alternate supplier.
This can be done in the Orders window, which can be found in the Purchasing Menu.
Creating a Parts Order
In the Browse Orders window, click on the Parts Order button and the Select Parts to Order window will be displayed. By default, only the items not yet ordered will be displayed in the list below. You can use the Show: icons to view previously ordered items.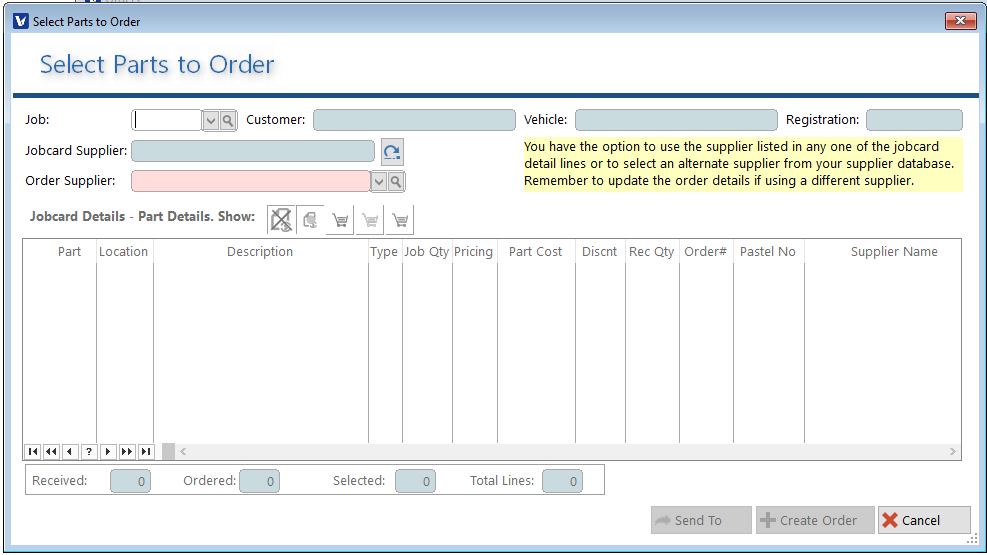 Enter the jobcard number or use the Job lookup 

 button to select the Jobcard for which you would like to create the order. ​A list of parts required for the job will be displayed in the Parts Details list.  
Select one of the parts in the
JobCard Details - Part Details
list for which you would like to place the order. You can either use the Supplier that was used for the quote by clicking on the
Arrow
button or choose a new Supplier by clicking on the 

 button in the Order Supplier field.
Select the parts you would require to be added to this suppliers purchase order using the Tag All, Tag/Untag, Untag All buttons and/or double clicking on the icon in the list (next to the item to be selected.  
Note: Tag All will only select the items quoted for the particular supplier you have selected. You can manually tag Jobcard parts quoted on from other suppliers using the checkbox in the list row, or the Tag/Untag button.  
Once all the parts required for this order have been selected, click the
Create Order
Button and the
Create Parts Order
window will be displayed.