Finalizing a Quote
Once the Quote has been done and completed in terms of prices for parts, all labour lines captured and any changes required were made, the next step would be to Finalize the Quotation. To Finalize any Quotation, Highlight the record on the Quotes window and simply click on the Finalize button.
The following window will be displayed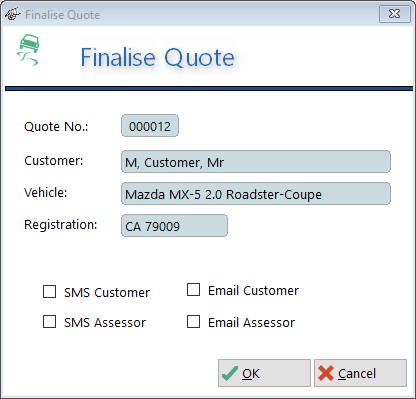 It is optional to Email the Customer and/or Assessor. (SMS only available from PLUS Level up)
Once done, click on the *OK*button to finalize the Quote.
*At this stage after finalizing the Quote, changes can still be made up to the point of Approval.
Once the Quote has been Finalized it can be Printed and/or Emailed.
Both options displayed on the Quotes window. Simply click on the option you would prefer and follow the displayed windows.
 
Click the OK button to finalize.
 


Approve Quotes